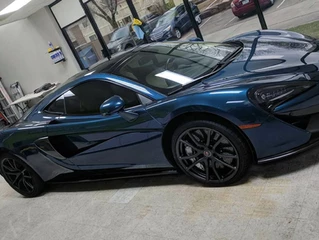 Today we tinted a McLaren 570GT!
Today was a great day! We had one of our regular customers come in with a one of a kind gem, a 2017 McLaren 570GT that he wanted window tint on. We applied our ceramic window film, which is our highest heat rejecting window film. This car had the butterfly doors and that gorgeous Pacific blue color. It took us a little time to prep for it but it came out EXCELLENT and we were getting compliments on Facebook within minutes after posting pics.
Do you have an exotic car that you want a professional's touch on? We can help!
Call us:
913.481.7392
Have a great day!