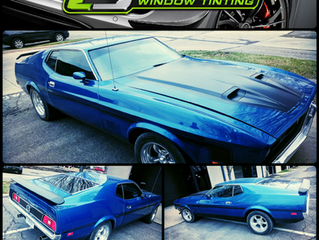 Father/Daughter Duo on a Mustang Restore
Recently, a customer of ours and his daughter came in to show off the work they completed on an old classic Ford Mustang.
Prior to them coming in to show us the finished product, he had stopped in to drop off the glass for us to tint (he had it removed from the vehicle).
The customer personally taped off each racing stripe and painted all the accents himself, which looked very clean! We were impressed with his paint work. We were also really endeared by the fact that he was proactive in completing such a fun, yet rigorous product with his daughter. It will no doubt be a memory they'll both never forget.
We love getting to be a part of things like this!
If you have a project that you'd like for us to help out on, feel free to call us at 913.481.7392 or email us at support@cornerstonetint.com
Thanks for reading!