Look no further for your vehicle's next-level surface protection! Whether you have PPF installed or your vehicle's bare paint, Ceramic Coating will take care of giving off the unrivaled gloss that not even waxing can match.
Wax is obsolete.
XPEL FUSION PLUS is a state-of-the-art ceramic coating that offers unparalleled protection for your vehicle's paint. This optically clear, multi-layered, liquid nano-ceramic coating bonds to the surface of your vehicle to create a durable, permanently flexible glass shield. With 3 times the hardness of traditional automotive paint and self-cleaning properties, XPEL FUSION PLUS provides an additional layer of protection and preserves the shine of your vehicle's paint.
Get an estimate and let us help you preserve the beauty of your vehicle with XPEL FUSION PLUS ceramic coating.


We proudly use
XPEL FUSION PLUS Ceramic Coating
FUSION PLUS can give you the beads, the shine, and the hydrophobic protection you need to keep your vehicle looking its best for years to come.
FUSION PLUS Benefits:
One time installation vs having to wax multiple times

Much more durable than wax

Can help prevent damage from sap, grime, and corrosives

It's far easier to clean and maintain because dust and dirt won't be able to stick to the ceramic coated surfaces

Washing & aftercare are a breeze with ceramic coating

It protects your paint from fading
Finally, FUSION PLUS ceramic coating is backed by XPEL with a 4-year warranty from the date of installation.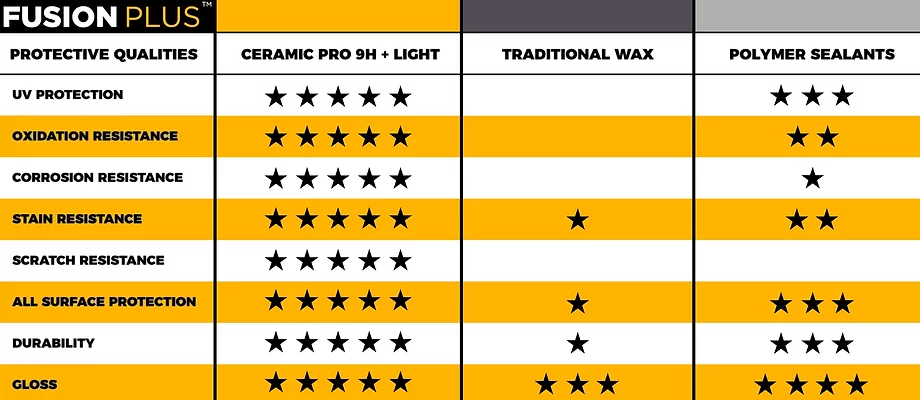 MESSAGE US FOR AN ESTIMATE TODAY
NEED PAINT CORRECTION IN OVERLAND KS? WE HAVE YOU COVERED!
Enhance the appearance and longevity of your vehicle's paint with our expert ceramic coating services. Whether your paint is showing signs of swirl marks from automatic car washes or deeper scratches from neglect, our paint correction services will restore it to its original condition before applying XPEL Fusion Plus ceramic coating. Our ceramic coatings are designed to provide a long-lasting and durable barrier to protect your paint and give your car a showroom shine.
​Here are a few pics of some paint that we've brought back to life!
FREQUENTLY ASKED QUESTIONS